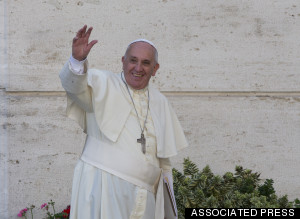 About a year and a half ago I wrote a letter to Pope Francis requesting that the Holy Father consider ending the 500 year schism between Lutherans and Roman Catholics by inviting Lutherans into full Eucharistic sharing with our Roman brothers and sisters. I followed up my little epistle with a
Change.org
petition. Alright. I know. I may be a little crazy, but I'm not quite daffy enough to believe that I would
really
get a response to either missive. I just thought I'd run the idea up the pole and see if anyone saluted. Alas, Pope Francis is yet to reply. But that's cool--the guy's pretty busy these days. I certainly understand. My
Change.org
petition wasn't exactly a howling success either, running a full year and garnering only 47 signatures--mostly from friends and members of my congregation.
A Catholic buddy of mine, the permanent deacon of a local parish, made an interesting point. "Owen," he told me, "there will never be full Eucharistic sharing between Lutherans and Catholics until there's full Eucharistic sharing between
Catholics
." What my friend meant, of course, is that there are millions of good, God-fearing Roman Catholics who are disenfranchised by their own church, barred from the Holy Supper because of marital status or sexual orientation.
This week, the press that's coming from the Vatican Synod on Family Values suggests that Pope Francis is rethinking some of the Catholic Church's historic positions on divorce, cohabitation, and the LGBT community. If this is the case, he is the most radical Catholic since Pope John XXIII, and maybe the most radical since Martin Luther himself. Already the voices of dissent have been heard howling, calling for a fallback to the traditional views and vowing that a liberal pope will
never
reverse the church's teachings on these issues. (See this
article
) My deacon friend jokes, "I'm sure glad this guy cooks his own meals!" He's suggesting, of course, that so radical a change in church teaching is enough to make someone want to poison the old boy.
Okay. I get that. Such is the Pharisaical nature of our sin that we just
have
to have some category of persons to whom we can point and accuse of being worse sinners than we ourselves. But this never was the way of Jesus, and what I truly dig about this pope is that he's been giving us back the Jesus of scriptures.
I mean, aren't you just bored to tears with a blond, blue-eyed, lamb-carrying, namby-pamby Jesus--the Savior of all virtuous well-scrubbed white boys and girls? Me too. I want the world to see the Biblical Jesus: an heroic, willing martyr whose burning compassion for the poor and those outside of society challenges the self-satisfied status quo. I want to see a church which is not a country club for saints but a hospital for sinners.
And as he sat at dinner in the house, many tax-collectors and sinners came and were sitting with him and his disciples. When the Pharisees saw this, they said to his disciples, 'Why does your teacher eat with tax-collectors and sinners?' But when he heard this, he said, 'Those who are well have no need of a physician, but those who are sick. Go and learn what this means, "I desire mercy, not sacrifice." For I have come to call not the righteous but sinners.'
(Matthew 9: 10-13)
I believe Pope Francis is doing more than just creating a "welcome environment." He's giving us the real Jesus--the one who comforts the afflicted and afflicts the comfortable. This is the only view of the Savior which truly speaks to our world.
Thanks for dropping by, dear friends. Leave me a note and let me know what you think, okay?