On one occasion when Jesus was going to the house of a leader of the Pharisees to eat a meal on the Sabbath, they were watching him closely. When he noticed how the guests chose the places of honor, he told them a parable. 'When you are invited by someone to a wedding banquet, do not sit down at the place of honor, in case someone more distinguished than you has been invited by your host; and the host who invited both of you may come and say to you, "Give this person your place", and then in disgrace you would start to take the lowest place. But when you are invited, go and sit down at the lowest place, so that when your host comes, he may say to you, "Friend, move up higher"; then you will be honored in the presence of all who sit at the table with you. For all who exalt themselves will be humbled, and those who humble themselves will be exalted. He said also to the one who had invited him, 'When you give a luncheon or a dinner, do not invite your friends or your brothers or your relatives or rich neighbors, in case they may invite you in return, and you would be repaid. But when you give a banquet, invite the poor, the crippled, the lame, and the blind. And you will be blessed, because they cannot repay you, for you will be repaid at the resurrection of the righteous.' (Luke 14: 1, 7-14)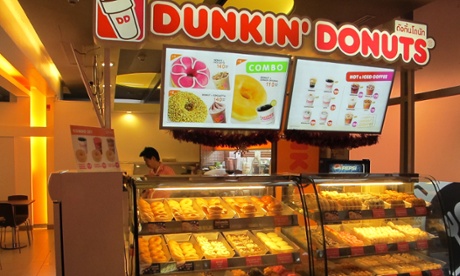 Here's something I love about Jesus: unlike his bug-eating mentor, John the Baptist, Jesus liked to eat. Dinner parties and eating out were big with him (see Matthew 11:19), and some of his best stuff comes as table talk. To me, there's not a lot in this world that's better than sharing a meal and interesting conversation with people you like.
Last week I had about an hour to kill before officiating a funeral, so I decided to stop at the local Dunkin Donuts and clog my arteries a bit. This particular Northeast Philly Dunkin D is conveniently located between the funeral home and the local hospital so when the patrons collapse from coronaries--brought about by the excess of sugar and fat--there's less of a commute.
The doughnut shop was jammed with patrons. I guess Monday mornings are official "Old Retired Dudes Day" at this particular establishment. At every table sat groups of old guys ( I mean, older than me— the standard by which I judge maturity). They were heavy-set, blue collar, gruff-voiced, Philly guys. They didn't bother to shave. They joked and laughed and tried to out-talk each other. They wore sweatshirts with Philadelphia sports logos and baseball caps—many of which identified the wearers as US military veterans.
"Yo! Father!" one of the guys yelled to me in a playful voice. "Will you come over here and bless this guy?" He pointed to a slightly embarrassed codger at his table. "He's totally full of crap and he needs all the help he can get!"
I walked over to the table. "Does he just need an anointing," I asked, "or are we talking a full-on exorcism?"
They all laughed. I had been accepted.
I ordered my coffee and a doughnut and began to take the lowest seat—the only vacant table in the place. It was a small table in the rear of the shop which two old gents had just vacated. I had about a half hour to get caught up on some reading, but my coffee break was soon interrupted by the arrival of two more retirees.
"Pardon me, Father," said one, "but could we share your table?" I couldn't very well refuse as there were no other seats available in the whole shop. So I made the acquaintance of Jack and Larry. Larry suggested to his friend that, as a clergyman was their table guest, they had better watch their language. He then told me a clean version of a dirty joke I'd heard thirty years ago. I smiled, but I confessed I'd thought the joke funnier in it's original incarnation. The ice was broken.
For the next half hour I shared the most delightful and meaningful conversation about faith, ecumenism, and the place of the church in political debate. I also had the chance to hear quite candidly what these two elder statesmen expected from their congregations, worship experiences, and clergy. I rarely get such honesty from my own parishioners. I felt truly honored.
As we parted, Larry remarked, "Ya know, I get the feelin' you didn't become a pastor at age twenty-two. Bet you did something else first. Am I right?"
"You are correct, Sir," I said, "and that's the nicest compliment I've received all week."
How exalting it is to be treated like a regular guy.
In this Sunday's gospel Jesus gives us some tips on good manners. He teaches us how to be good guests and good hosts.
(Hey! Did you hear this one? The Virgin Mary says to the eleven-year-old Jesus, "Son, get your elbows off the table! Where are your manners? Were you born in a barn?" Okay. Dumb joke. I won't do it gain.)
In the world of the gospel text, honor and shame were pretty darn big issues. They could have economic ramifications for an entire family. Even today, self-help gurus encourage us to elbow our way to the places of honor, to blow our own horns, and make our achievements known—and woe to anyone who fails to acknowledge our accomplishments! But Jesus counsels the virtue of humility.
I once had a high school teacher who said he preferred honest arrogance to false modesty. I don't like arrogance of any kind, honest or not. As a Christian, I'm taught to embrace honest modesty—the knowledge that I have sinned and fallen short of the glory of God, and that all the things I think make me hot stuff are just ephemeral. My self-worth comes from feeling the love of the Creator God, and knowing that, undeserving as I am, I am given blessings every single day if I will only open my selfish eyes and see them. From the seat of humility we learn to be accepting and grateful, and we're protected from the disappointments of our own puffed-up egos.
Good manners also mean a sense of graciousness. Grace is the gift which comes undeserved. As hosts, we serve graciously to those who couldn't possibly repay our hospitality. If we welcome with the expectation of some kind of return, we are not so much practicing grace but commerce.
I'd like to suggest a change in our liturgical etiquette if I may. As the celebrant at mass, I always believe in serving the congregation first, the worship assistants second, and myself last. I mean, wouldn't you think me rude if, as head of the table at a dinner party, I served myself first? I'd like to see our liturgical practices reflect this common courtesy. And, of course, I make a point of welcoming everyone to the table—at least everyone who feels they can receive the Lord's body and blood in good faith. How rude to invite someone to your home and not offer them something to eat!
And to that end, I still invite you, dear Reader, to sign my petition asking Pope Francis consider open communion with Lutherans. Yeah, I know. The Cubs will win the pennant before I get a response from the Vatican on
that
issue. But we can hope, can't we? Just click
here
. Thanks for stopping in!